You are looking for new lighting for your freshwater aquarium. Perhaps you are in doubt about LED lighting, or you are already convinced of its many advantages, but you are not yet sure which lighting system is best for your aquarium. Each brand has its pros and cons, but which ones are important for you? Investing in LED lighting is not something you do often, lighting is an expensive part of the saltwater aquarium and at the same time very important. So do your research and choose wisely.
Just a few examples of questions you should ask yourself when making the right choice for a good set of aquarium LED lights for your freshwater aquarium:
What is the light requirement of my aquarium?
What do I like?
What are the dimensions?
How many lights do I need?
What is my budget?
Do I have any other specific requirements?
Fortunately, HVP aqua has done much of that research for you, often in collaboration with other experts. HVP aqua is an expert in the field of aquarium LED lighting and over the past 10 years, we have gathered more information on aquarium lighting than many an aquarium will ever have. Obviously because it's our job, but also because we love what we do and we love helping our customers make their aquariums even more beautiful.
When choosing your set of LED aquarium lights, it is important to first take a good look at the aquarium. The first question we ask freshwater aquarium owners is:
What are the dimensions of the aquarium?
What percentage of the aquarium is planted?
Do these plants need a lot or little light?
Do you prefer a light or (relatively) dark aquarium?
Do you have an existing fixture? If so, what is the length of the bulbs?
Does the aquarium have a lid?
By answering these questions, we get a better picture of the aquarium and are one step closer to the right advice. Below, we specify why we ask these questions, to take you through the process:
What are the dimensions of the aquarium?
The length of the aquarium determines the length of the lighting. Try to illuminate the total length of the aquarium. Any overflow or drying chambers can be subtracted from the length. An aquarium of 150 cm (24") preferably has a lamp length of (in our case) 1450 mm (or 145 cm). In this case only 5 cm are not illuminated. Because of the 120 degrees angle of incidence, that 50mm will remain unnoticed and the aquarium will be well lit.
Next, the depth (front to back) is important in determining how many lamps of the correct length are installed. An aquarium 50cm deep naturally needs fewer lamps than an aquarium 70cm deep. The standard rule of thumb we use for a freshwater aquarium is one GoldLine lamp per 25cm depth and two RetroLine lamps per 25cm depth.

Example: The aquarium measures 100x40x40cm. So the depth (read: from front to back) of the aquarium is 40cm. In most cases one GoldLine lamp or two RetroLine lamps will suffice. There are of course exceptions. In case of a heavily planted aquarium (>50% of the bottom is covered with plants) one GoldLine lamp or two RetroLine lamps will not suffice and custom advice is needed.
The height of the aquarium is important in order to determine whether the aquarium falls under a possible exception to the rule of thumb above. A high aquarium (with many plants) obviously needs more lighting. In practice this often means that more lighting is used or that a different type of lighting is chosen, for example our white GoldLine Marine lamps. These lamps combine well with a GoldLine (freshwater) for large/higher aquariums.

What percentage of the aquarium is furnished with plants?
To put it simply, an aquarium with a lot of plants (read: more than 50% of the bottom is covered with plants) needs a lot of light. Sounds logical, right? The types of plant also influence the right choice of aquarium LED. Would you like customised advice on which types of plants require which type of lighting? Please contact Robèrt, our aquarium expert. Or visit our showroom.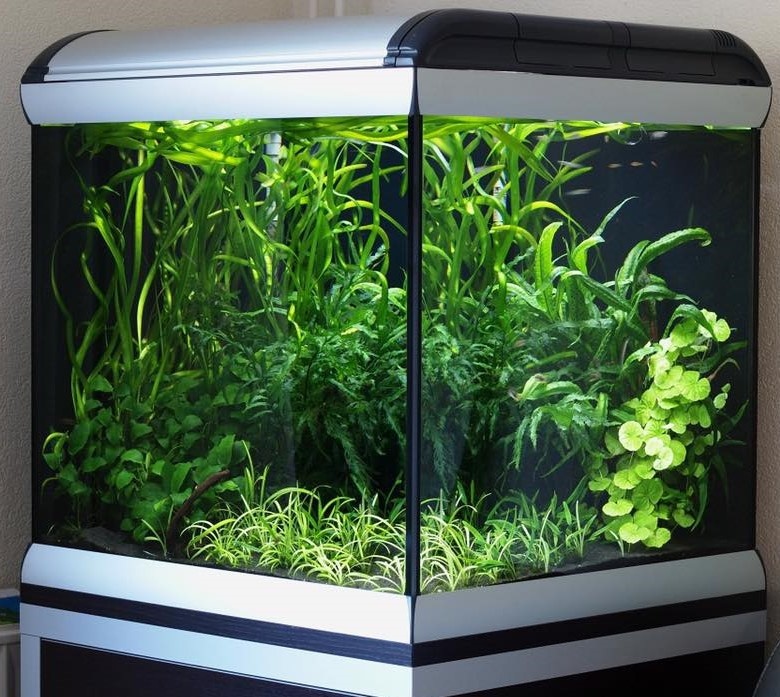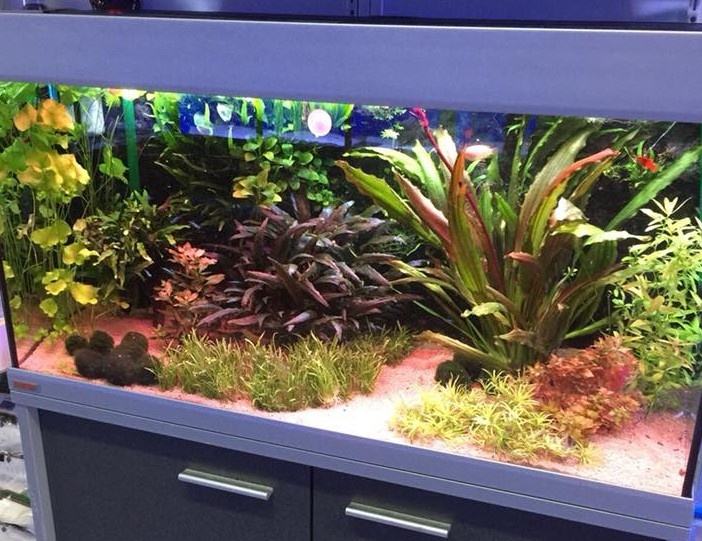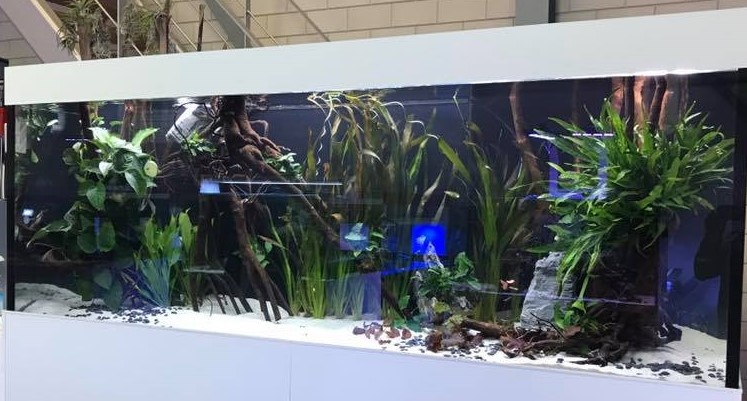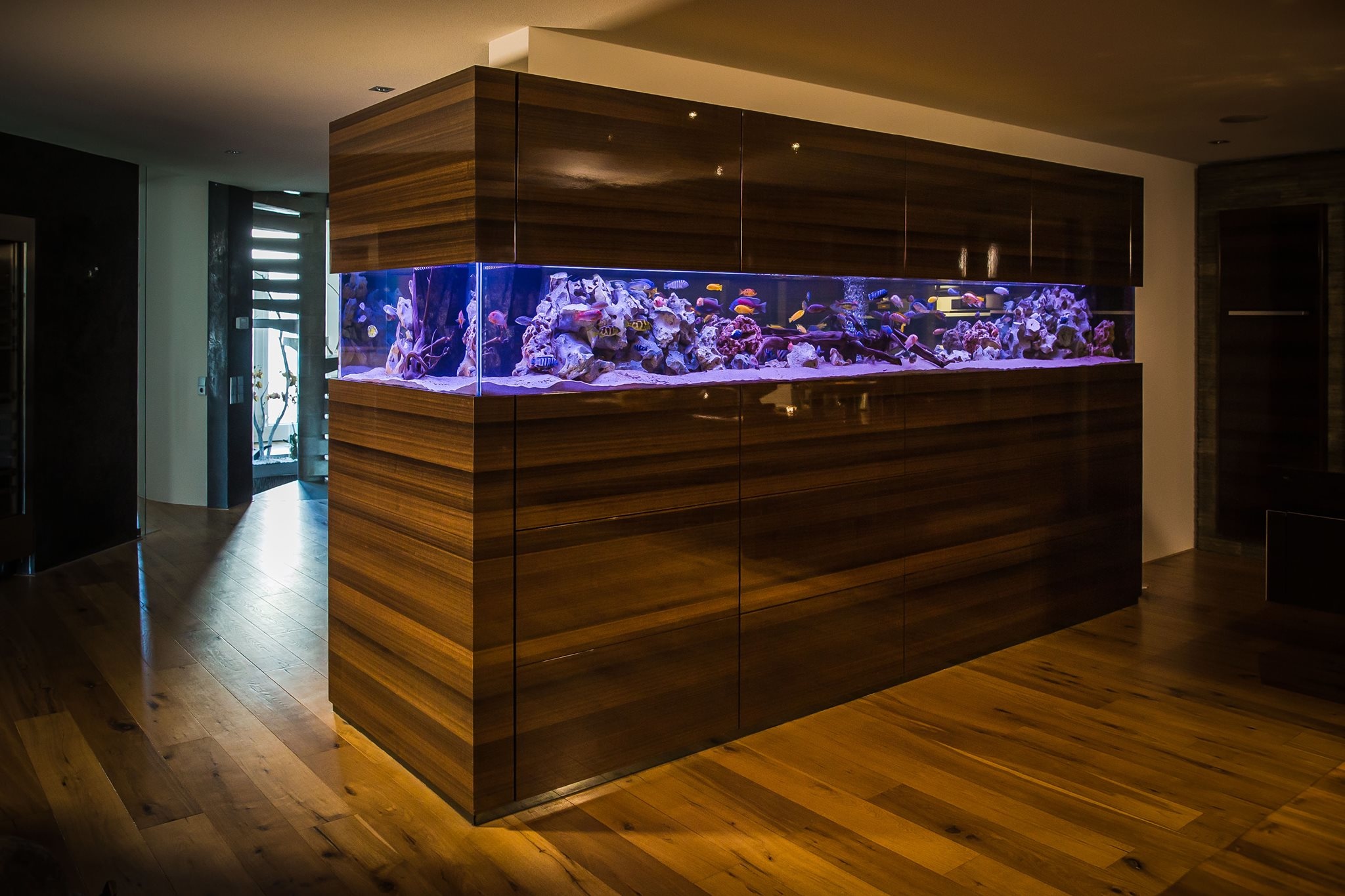 Do you prefer a light or (relatively) dark aquarium?
Apart from the fact that the plants have to grow well, an aquarium is also a living painting and you like to look at a beautiful aquarium. Tastes differ and there are so many people with so many wishes. Fortunately, our LED system for freshwater aquariums is very diverse and flexible. Just like with fluorescent lamps, our customers can choose from different types of lamps. The colours can also be set according to personal taste using the 8-channel or 5-channel controller, and the HVP aqua LED freshwater aquarium comes with a range of lighting options.
If you like your aquarium dark and it has hardly any plants, you can choose to install less lighting or to dim the lighting more (e.g. by 50%).
Please note that plants need lighting in order to grow. And it is not advisable to dim the lighting too much in an aquarium with plants.

Do you have an existing fixture? If so, what is the length of the lamps?
As our GoldLine and RetroLine lights are fitted with T5 end pieces, it is possible to fit the lights into existing fluorescent fittings. The fittings of Juwel Aquaria are particularly suitable for this purpose. Aquarium owners with a custom built aquarium often don't have a fixture anymore with a new aquarium and in most cases will mount the lamps on the glass strips/stabilization strips.
HVP aqua's freshwater lamps have the following dimensions:
438mm
550mm
590mm
742mm
850mm
895mm
1047mm
1150mm
1200mm
1450mm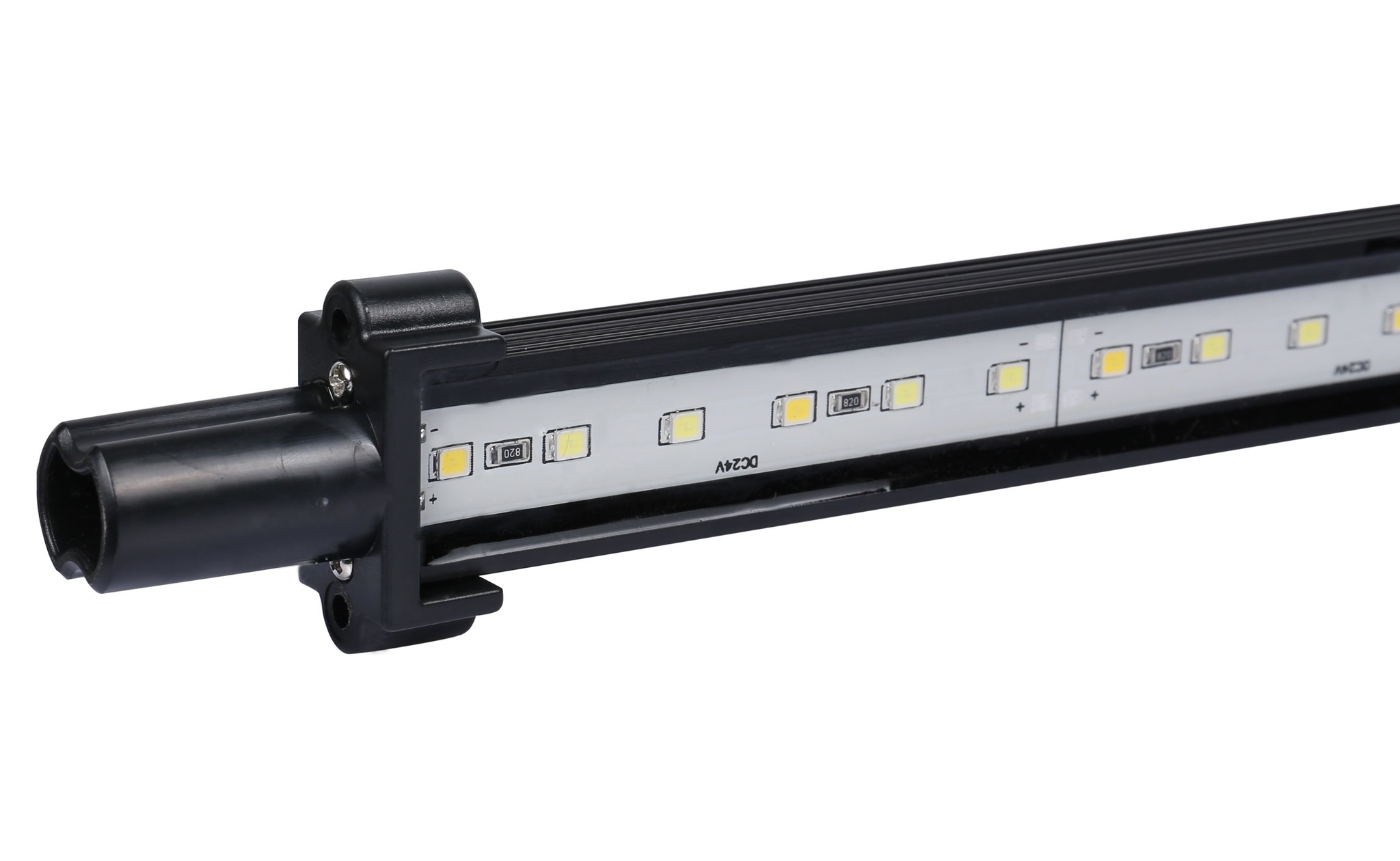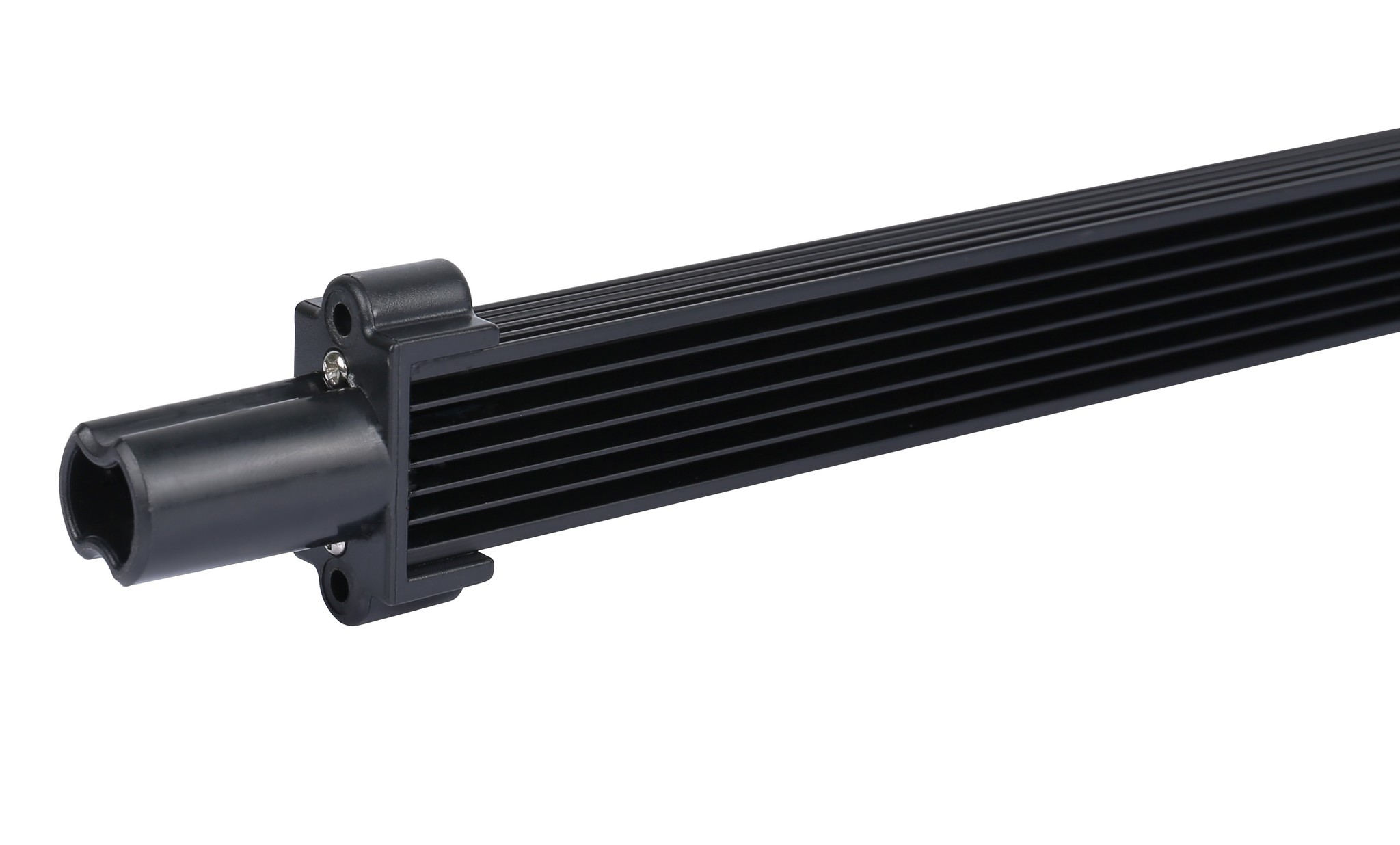 Does the aquarium have a lid (or is it closed)?
A closed aquarium requires waterproof lighting. The water that evaporates in an open aquarium (without hood) remains in the hood of a closed aquarium and settles on the lighting. Lighting with an IP value of at least IP67 is waterproof and can be used in a closed aquarium. It goes without saying that this lighting must be specially designed for aquariums. Ordinary waterproof lighting is not suitable. The HVP aqua lighting is 100% waterproof: IP68.